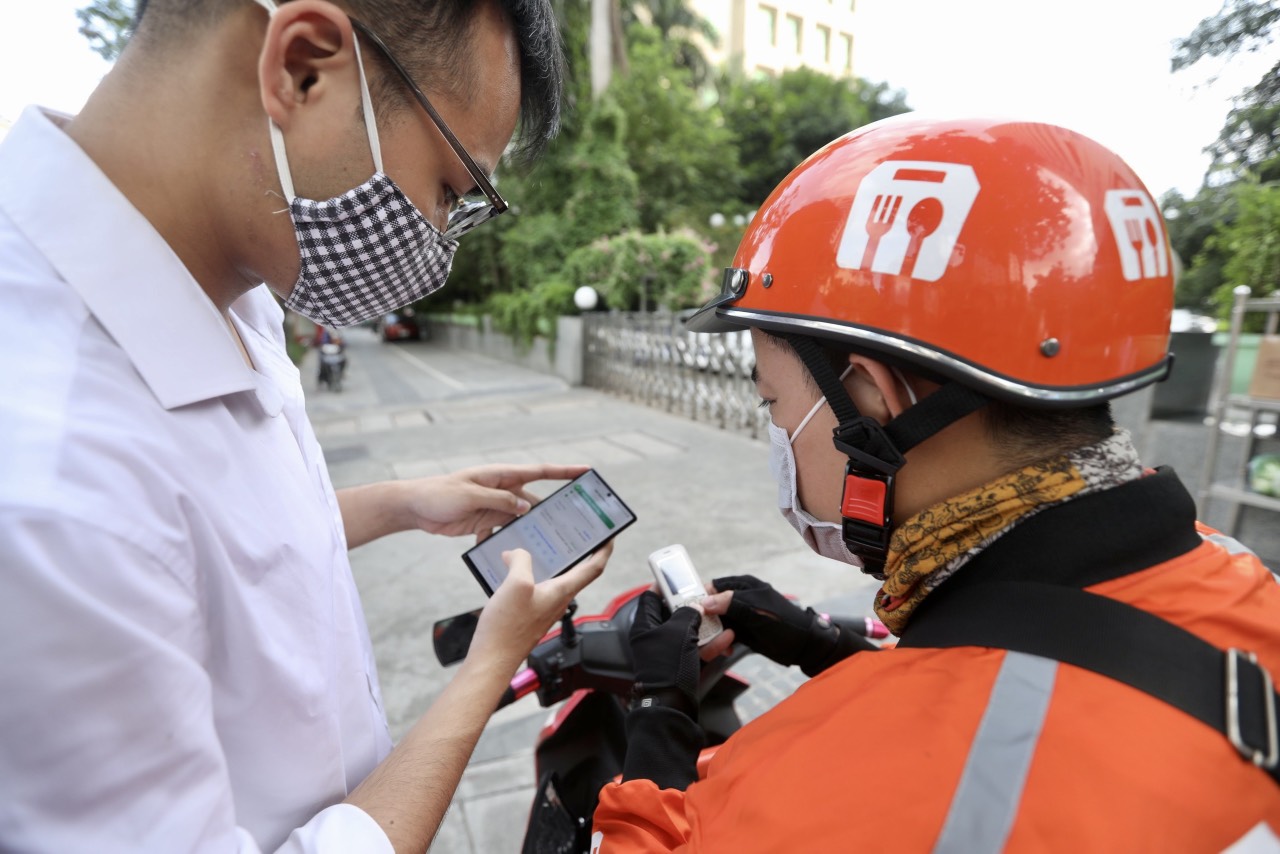 Touchless payment, reducing the pressure to always have cash ready
The above sharing of Mr. Nguyen Tuan Anh (Hai Ba Trung, Hanoi) is also the story that many customers who are using VNPT Money wallet recently have experienced. With a series of great incentive programs, for many different services at the same time, there are preferential services up to 50% including payment for air tickets, telecommunications services, phone card recharge, insurance. …., VNPT Money is bringing unprecedented benefits to its customers.
Not only that, the convenience of VNPT Money is also increasingly proven by being able to easily pay anytime, anywhere, for essential daily needs. "As an office worker, at noon, brothers and sisters in the office often invite each other to have a meal. Many days, paying for a bowl of vermicelli only costs 30,000 VND, but when I look through my wallet there is no change, I have to ask for payment. Very shy. However, now, in the whole street specializing in selling rice to my office, I just need to put up my phone to operate a few steps and I can pay with VNPT Money easily. You also have to prepare cash on your side," added Mr. Tuan Anh.
In fact, most of the salary payments for employees of agencies, organizations and businesses are poured into bank accounts, so it takes a lot of time to go to an ATM to withdraw cash. , causing inconvenience to people, not to mention the peak periods, having to wait for a long time but it is not certain that the money has been withdrawn. At this time, online payment methods like VNPT Money prove more convenient and useful every day. In particular, in the context of the current complicated epidemic, the touchless payment will contribute to minimizing the risk of infection and optimal health protection for people.
The "ultimate" offer, the more you use it, the more beneficial it is
With 2 main money sources including e-wallets and mobile money Mobile Money, customers can easily use VNPT Money to pay, top up, receive, transfer money anytime, anywhere without needing a bank account. need internet, ensure absolute safety for transactions.
Up to the present time, VNPT owns a network of business points of more than 10,000 transaction points, 10,000 authorized transaction points and more than 200,000 affiliated business points. continues to be extended to all regions of the country, across all fields, industries, services … providing optimal convenience, wherever you can make transactions, even small value transactions, only a few thousand dong.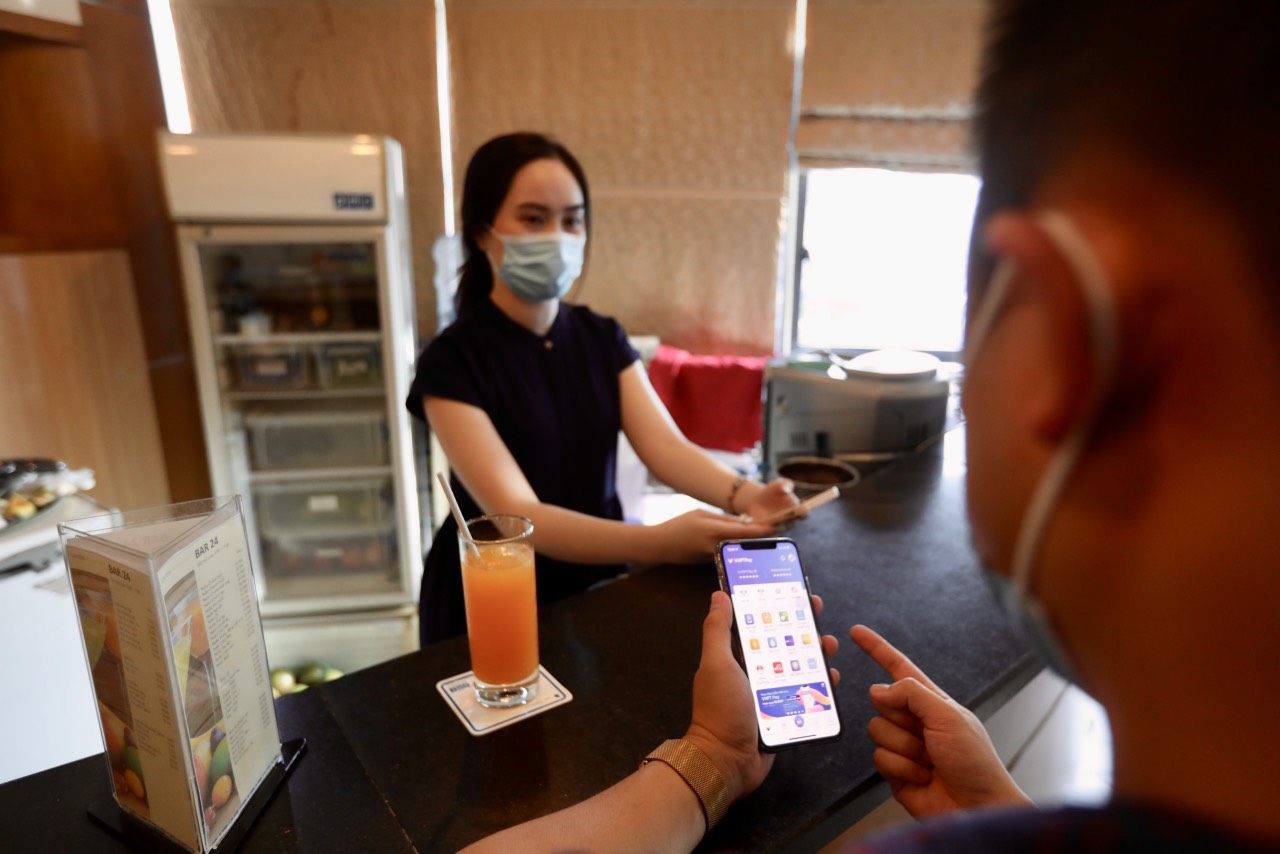 VNPT owns more than 10,000 transaction points, 10,000 authorized transaction points and more than 200,000 associated business points.
Accompanying that is an unprecedented discount for digital payment services. For example, the program to buy air tickets on the VNPT Money app, currently with a discount of up to 50%, the more customers fly, the more beneficial they are. Or the 50% voucher program when paying VNPT telecommunication bills (Internet, fixed line, postpaid mobile VinaPhone, MyTV) that VNPT has implemented recently on the VNPT Money application.
In particular, charging and paying phone and telecommunications charges has never been easier and cheaper than today with VNPT Money. Regular high discount rate, just needing simple operations on the "brick" device, through USSD protocol (dial *9191# and make a call on the dialing screen), customers can top up phone easily without having to buy a card, without bothering to enter the card number which is easy to confuse during the input process.
With the VNPT Money application, customers have more options and incentives to "let go" with more digital payment services. From tuition fees, hospital fees, insurance, electricity, water, etc., there are often high discounts that are superior to other common forms of payment.
Phone top-up – Instant and convenient VNPT Money
"In the context of the economic recovery after the pandemic, the fact that the communication needs not only of businesses and organizations but also of the people is especially high. Despite this, the fear of the epidemic is still there. make people afraid, limit direct contact, will switch to communication through forms such as SMS, telecommunications calls to ensure the legitimacy and safety of information. Because of that, the increase is high, but people do not have too much time to buy directly or watch promotions.Understanding that, VNPT also planned in advance, offered the most attractive incentives, regularly. for customers to use VNPT Money to top up their phones, not only for VinaPhone network but also for other carriers. Since then, it has gradually formed a habit for customers and people to recharge their phones. VNPT Money because it is cheap, safe and convenient.Optimizing the interests of customers is the way that we are indirectly contributing to the reconstruction and recovery of the economy. general economy", a representative of VNPT shared about the business's plan in the near future.

https://genk.vn/tu-bo-thoi-quen-dung-tien-mat-thanh-toan-an-toan-hon-trong-thoi-dai-so-voi-vnpt-money-2022040411242195.chn
.