Gold price today, update the latest gold price list, how much is the SJC gold price, the 9999 gold price is updated quickly and accurately.
Domestic gold price
The latest domestic gold price update today, January 12, the domestic gold price suddenly increased again when the world gold price was gaining momentum, precious metals were listed at a rebound from 50 to 200,000. VND/quantity.
Doji gold price increased the least at the Hanoi branch with the buying price remaining unchanged and increasing by 50,000 VND while in Ho Chi Minh City the buying and selling prices both exceeded the threshold of 61,000 VND/tael.
The price of SJC gold in Hanoi and Ho Chi Minh City is currently increasing by 150,000 VND/tael and sold by 100,000 VND/tael purchased.
PNJ gold price has now increased by 200 thousand dong/tael in both buying and selling.
Gold price in the world market is equivalent to 50.17 million VND/tael, approximately 11.5 million VND/tael lower than the domestic gold price.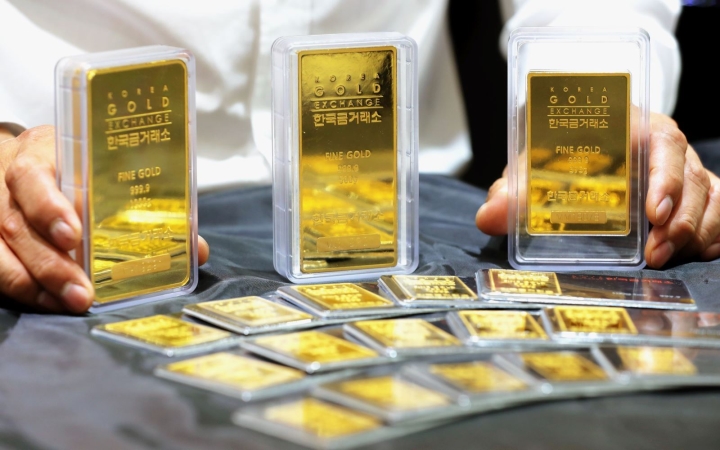 World gold price
The latest world gold price, the world gold price continued to increase today and is currently trading stably above the psychological threshold of 1,800 USD/ounce due to the support of oil price and USD index.
A slight drop in US Treasury yields is also seen as one of the supportive factors.
Yields on 10-year US Treasuries are currently at 1.74%, down slightly from Monday's peak of 1.8% since the outbreak of the pandemic.
Global stock markets were mixed overnight, with US stock indexes heading for a high open in the early New York session, forcing many investors to be more cautious.
February gold futures rose $9.40 to $1,808.1 an ounce while Comex silver in March also gained $0.233 to $22.69 an ounce.
Gold price forecast, latest gold price trend
Gold price forecast, the latest gold price trend in the near future: The metal market is currently supported by other markets such as rising crude oil prices and the weakening US dollar index.
Global equity markets were also mixed while traders and investors were extremely cautious this week and tried to adjust their portfolio positions towards tighter monetary policy.
According to analysts, there will certainly be questions about the trajectory of monetary policy from the Fed as well as the outlook on inflation for Jerome Powell.
February gold bulls now have the overall near-term technical advantage. Meanwhile, technically, February gold futures bulls are currently in the midst of a tug-of-war.