Recently, chip manufacturer MediaTek has officially introduced its 2 latest 5G processors Dimensity 8000 and 8100. Not only manufactured on TSMC's high-end 5nm process, these chips also inherit many technologies. breakthrough from the Dimensity 9000 chip, helping to bring many features on high-end smartphones to a new level.
Here are the features that show how these two new chips are worthy of a flagship:
1. Better battery life thanks to 5nm . process
MediaTek Dimensity 8100 & 8000 is manufactured under the most advanced TSMC N5 (5nm layer) process, providing users with outstanding power efficiency and longer battery life. Specifically, the chip line delivers 25% better CPU power efficiency than the 6nm process Dimensity chip.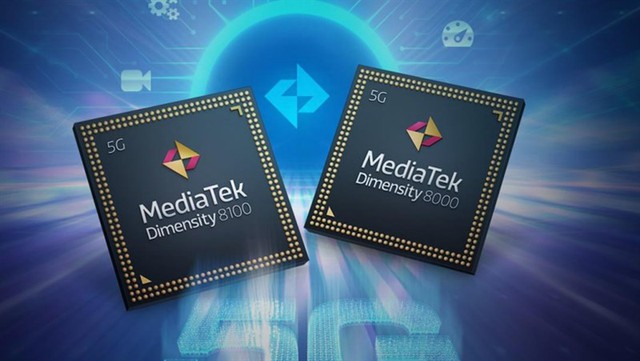 2. Experience the game with high frame rate
In the octa-core CPU of this chip family, there are four ARM Cortex-A78 cores that provide clocks up to 2.85 GHz in the Dimensity 8100 chip and 2.75 GHz in the Dimensty 8000 chip. In addition, the Dimensity 8100 also has a built-in Dimensity 8100 chip. ARM Mali-G610 MC6 graphics core, 20% faster than Dimensity 8000, plus new MediaTek HyperEngine 5.0 technology to optimize the entire smartphone for smoother gaming experience.
3. MediaTek Imagiq 780 . Technology
Inheriting Imagiq ISP technology with 5Gpixel/s speed from the "flagship" Dimensity 9000 chip, this chip line will produce impressive HDR images and videos. The MediaTek Imagiq 780 technology is capable of supporting dual-camera recording at the same time, with HDR capture with three exposures per frame. Simultaneous dual-camera recording lets you shoot the front and rear cameras at the same time, or use two different shooting modes at the same time, such as standard and wide-angle.
4. MediaTek APU 580 processor
With a design built to optimize processing power, MediaTek's 5th generation AI processor enhances the ability to handle many AI tasks such as AI-multimedia (AI-multimedia), AI -camera and video experience on social networking platforms. These upgrades make the Dimensity 8100 and 8000's processing power 2.75 times and 2.5 times higher than the previous generation Dimensity chip using APU 3.0.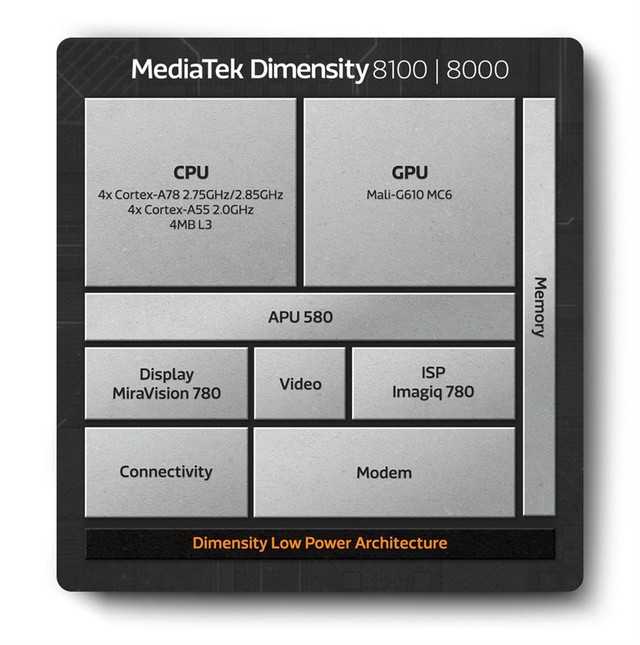 5. MediaTek MiraVision 780
MediaTek's MiraVision 780 delivers new multimedia standards including CUVA HDR-vivid certification for the Chinese market, HDR10+ Adaptive support, and hardware-based AV1 video codecs for high-definition streaming media. Up to 4K resolution for greater energy efficiency.
MediaTek Intelligent Display Sync 2.0 technology is also built-in, which automatically increases the screen refresh rate to fast when needed, then slows down to save power when the program is inactive.
6. High refresh rate display
Both the Dimensity 8100 and 8000 support Full HD+ screens with a refresh rate of up to 168Hz, the ideal number for gamers who demand the most sensitive devices. To help brands that want to make a mark in the market, the Dimensity 8100 also supports screens with WHQD+ resolution and 120Hz refresh rate.
7. 3GPP Release-16 . Standard 5G Modem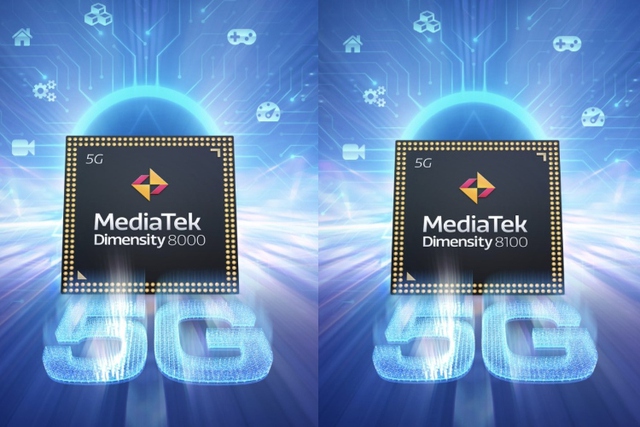 Both the Dimensity 8100 and 8000 offer 5G technology with a modem that meets the latest 3GPP Release-16 standard built into the chip. This modem includes downlink performance up to 4.7Gbps (sub-6GHz), 5G+5G dual-SIM standby support, and 5G UltraSave 2.0 power-saving booster. With this technology, smartphones can stay on 5G all day without worrying about the battery.
8. Support for new technologies of positioning, connectivity and wireless audio
In addition to 5G, the Dimensity 8100 and 8000 feature the latest Wi-Fi 6E and Bluetooth 5.3 connectivity, as well as GNSS navigation technology.
Wi-Fi connectivity is enhanced by MediaTek Wi-Fi Fast Path technology, while the combined Wi-Fi/Bluetooth design ensures that peripheral devices as well as the internet are always stable. New Bluetooth LE audio technology with True Dual-Link Wireless Stereo (Dual-Link True Wireless Stereo Audio) standard helps provide stable connectivity with low latency for wireless headphones.

https://genk.vn/mediatek-khoe-8-tinh-nang-xung-tam-flagship-tren-2-con-chip-moi-20220426160632998.chn
.
---
---