When you just bought an iPhone or reinstalled an iPhone, which app do you install first? For many people, it could be Gmail, Amazon or Netflix. Understanding this, Apple has made its own suggestions right on the App Store.
When you first open the App Store, you'll see "Must-Have Apps" right at the top. The list includes apps that Apple considers necessary and useful for iPhone users. Can name Snapchat, TikTok, YouTube, Gmail, Amazon, Reddit, Tinder, SoundCloud, Duolingo, LinkedIn…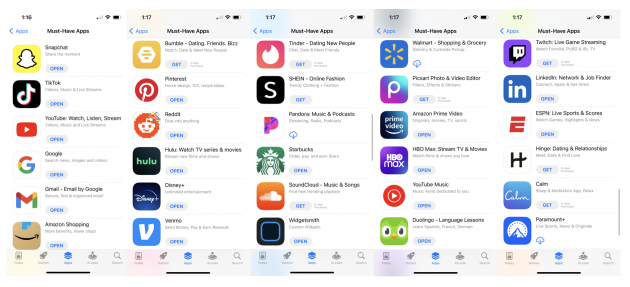 Apple's "Must-Have Apps" list. (Photo: Inc)
However, according to Inc., it is quite interesting that Meta's famous trio of applications – Facebook, Instagram and WhatsApp – are not on the list, despite them being extremely popular and all having more than 1 billion users. . Even when it changed its name from Facebook to Meta, Mark Zuckerberg's company was still negatively evaluated for tracking nearly every action of users online and for advertising purposes. In contrast, Apple insists it does not collect and share user data with third parties. The iPhone maker also frequently talks about how it views privacy as a "fundamental human right."
In 2021, Apple introduces major changes to the iOS operating system, requiring app developers to ask for permission before tracking users. That greatly affected Facebook's business. Facebook even ran ads in major newspapers to warn Apple was a big threat to the Internet and intended to harm small businesses.
These things partly explain why Apple does not include Meta's applications in the list of suggestions. Another detail, whether accidentally or intentionally, is that the first 4 names suggested are Snapchat, TikTok, YouTube and Google – Meta's counterweights in 4 areas.
According to Inc, there are two lessons to be learned here. First, Meta's problem is bigger than the company wants to admit. Changing the name does not mean "changing fortunes" or erasing Facebook's wrongdoings. While still popular, Apple clearly doesn't want you to install it on your device. Facebook not only refuses to admit mistakes, but also complains about mistakes made by others. Recently, the company was also "unmasked" the fact that it hired a media agency to "dump" TikTok. The Verge also pointed out that in 6 months, the amount of malicious news on Facebook News Feed suddenly increased sharply, but they only said it was due to a software bug.
Looking back at Meta's responses to scandals shows that the company is unwilling to accept responsibility and always blames others. In addition, despite moving to the virtual universe, the majority of Meta's ad revenue still relies on users, including iPhone users. Apple holds great power over Facebook's fate.
From here, the second lesson is for Apple. Due to its great power, Apple should be careful when using it. The company is facing great pressure from regulators and lawmakers around the world. The list of suggestions does not include Netflix and Spotify – the two most popular video and audio streaming services. Neither app allows users to register within the app, but through a web browser, meaning Apple can't charge their subscriptions.
If the list of suggestions is missing prominent nominees just because they do not bring Apple financial benefits, it only makes the image of "missing apple" less beautiful in the eyes of the public.
.
---
---