On March 29, the official website of the White House made an important announcement regarding the Vietnamese car company Vinfast. Accordingly, the project of billionaire Pham Nhat Vuong will build an electric car and battery factory in North Carolina (USA) worth 4 billion USD. The factory promises to create more than 7,000 jobs, along with hundreds of thousands of electric cars and batteries.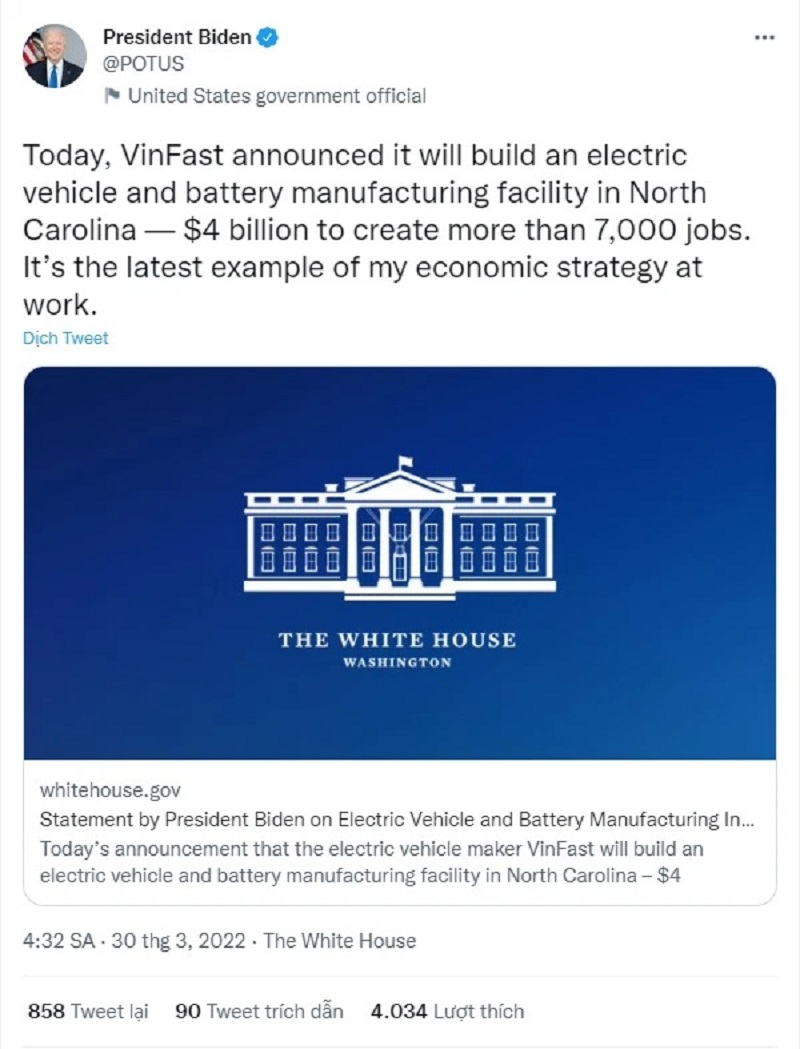 The White House bulletin reads: "This is the latest example of our economic strategy working." Along with information related to Vinfast, this announcement also mentions that major manufacturers such as GM, Ford, and Siemens are making efforts to invest in the US to create jobs.
These are the efforts of White House President Joe Biden in building a clean energy economy and rebuilding supply chains in the US towards reducing costs for the American people.
It can be said that since taking office, the government of President Joe Biden has taken measures to revive the domestic manufacturing industry, create good jobs for Americans, help strengthen America's supply chains and promote future industries such as electric vehicles.
At the end of 2021, the US President signed the infrastructure bill to build charging infrastructure for electric vehicles, and at the same time gathered the American Auto Workers Union and auto manufacturers at the White House to sign. an ordinance to achieve 50% electric car market share by 2030.
Not only announced on the White House website, President Joe Biden also posted a status about VinFast on the social network Twitter. To talk about this, journalist Steve Daniels called the above information "Big news for the North Carolina economy", and he said that VinFast's factory is expected to have an economic impact of 71.6 billion USD within 30 five.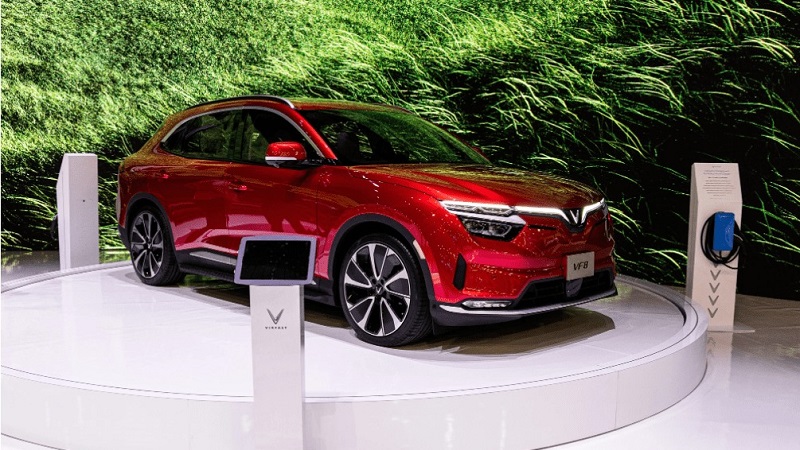 VinFast's factory will be located at Triangle Innovation Point industrial park, Chatham County with an area of ​​about 800 hectares, including 3 main areas: production and assembly area for electric cars and electric buses; battery production area for electric vehicle products and ancillary industry area for suppliers.
In the first phase, the plant will start construction in 2022 after receiving the construction permit and is expected to be operational in July 2024. The capacity of phase 1 is expected to be 150,000 vehicles/year.
According to Vinfast's memorandum of understanding, the Vietnamese automaker will continue to invest in the factory in different phases. The first models produced at the factory include the VF9 – a 7-seater large SUV and VF8 – a 5-seat mid-size SUV.
.